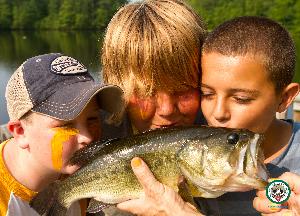 CUTS for CAMP, BRAIDS for BANDITS!
Thank you for visiting our Hair Today team page! We're raising money to help the brave and beautiful campers and their familes at The Hole in the Wall Gang Camp. Please help us reach (or hopefully exceed!) our goal. With your generosity, we can all share in the joy of knowing that we are helping to provide this amazing camp experience to other children and families from our communities, coping with serious illness.
Please read below, though if you're in a hurry to GIVE, click "DONATE NOW" or "JOIN TEAM" and visit later to learn more of why we are supporting this wonderful cause!
Founded in 1988 by Paul Newman, The Hole in the Wall Gang Camp is dedicated to providing "a different kind of healing" to seriously ill children and their families through a variety of year-round programs. The Camp delivers fun, friendship and a healthy dose of mischief through its signature summer program and weekend sessions at the Camp facility in Ashford, CT as well as outreach to hospitals, clinics and communities across the Northeast. All services are free of charge. Please take a few minutes to watch these short videos on Camp (copy/paste the links below).
Camp Intro: https://youtu.be/P2516LEl6AM
Family Camp Experience: http://www.holeinthewallgang.org/news/meet-the-sullivans/
We are also hosting a "CUTS for CAMP, BRAIDS for BANDITS" event at Hair Today salon, 2844 Main St, Glastonbury, CT on Saturday, May 6, 1-4pm. Bring your family and friends for an afternoon of cuts, braids and lots of fun! We are grateful to host this event, Celebrating the Life of our cousin, Craig Naumec who passed in 2015. Craig joined The Hole in the Wall Gang Camp in 1989, as a Cabin Counselor. He volunteered for many years before becoming a full time Camp employee. As the Camp Photographer and Videographer, Craig captured many amazing experiences that are showcased throughout Camp. Craig also shared lots of energy, wit & creative humor with the children, families & Camp staff! Craig met his wife, Mary, while they were both volunteers at Camp. Mary Naumec is currently the Director of Hospital Outreach, which brings the joy and fun of Camp beyond the Camp grounds to children and families in a hospital setting. We are grateful for Craig, Mary and all Camp staff & volunteers for their heartfelt caring for the many children & families that Camp serves:)
Please visit our Hair Today Facebook page for event details (copy/paste this link)... https://www.facebook.com/HairTodaySalon/
Special thanks to Kelsey Kermode Kaman for recommending this wonderful cause in our Hair Today #livegood promotion!
We look forward to an afternoon of cuts, braids and lots of fun! Help us send more children and their families to Camp! Together, we can make a difference:)
Mike & Jane "Ski" Chemerynski
Owners, Hair Today
Look Good. Feel Good. Live Good.
2844 Main St, Glastonbury, CT
860-659-0501
Visit our website (copy/paste this link): http://hairtodayct.com/
View More

Michael Chemerynski
$2,630

Team Honor Roll
Anonymous Anonymous
$1,010
Dean & Joan Marchessault
$250
Purtill & Pfeffer, P.C.
$50
The Adams Law Firm, P.C.
$50
Sheptoff, Reuber & Co PC
$50
Recent Donors
Hair Today
Anonymous Anonymous
The Piascik Family
Dean & Joan Marchessault
Walt Disney Company