Welcome to Victoria Kuhr's Personal Page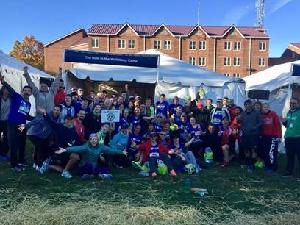 YOU YOU YOU:
I'm back at it; fundraising for this personally meaningful cause - The Hole in the Wall Gang Camp. While I may be pounding the 26.2 miles, it's YOU who is making the difference. Often we donate to charities because a friend asks, but if I do my fundraising right, I hope you feel a connection to this organization too. Starting with, the impact of your money! It goes beyond this page to help HITW accomplish its mission (see below) and to enhance the lives of seriously ill kids. At the 2016 NYC Marathon team dinner, I had the honor of meeting a camp family. The positive effect of camp on their lives was palpable.
So, thank you. We appreciate it! And I appreciate the gamble you're taking on me to finish this crazy race on behalf of HITW. In return for your generous support... please see below.
ABOUT: HOLE IN THE WALL GANG CAMP
In 1988, Paul Newman opened The Hole in the Wall Gang Camp in Connecticut so that children coping with serious illnesses could have a special hideout where they could simply be kids. The Hole in the Wall Gang Camp is dedicated to providing "a different kind of healing" to more than 20,000 seriously ill children and family members annually - all completely free of charge. For many of these children and families, Hole in the Wall provides multiple Camp experiences throughout the year at the facility in Conn., in more than 40 hospitals and clinics, directly in camper homes and communities, and through other outreach activities across the Northeast.
IN EXCHANGE FOR YOUR MONEY:
Please stop by my personal training blog (www.victoriakuhr.com), marval at my "tomato face" summer photo gallery and laugh really hard. I promise, by following me on this endeavor you'll:
a) Laugh (the full belly type) at least once, while reading my training updates and bloopers
b) Know that this cause it worth your donation and attention and time
c) Be so glad it isn't you running in the East Coast humidity
d) Feel happy that you took a gamble supporting me on this hard (yet rewarding) endeavor called a Marathon because it means a lot to me
View More
Fundraising Honor Roll
Happy Hour Drinks + News Corp
$460
Carrie, Steve, & Hazel
$100
Mr. Christopher Guenther
$100
Mickey Jo Sobierajski
$50